Type A Wall Ties
Failure to use the correct wall ties is a common mistake that we're still coming across on site. In most cases, cavity walls require Type A wall ties: these tend to be lighter and transmit less vibration (and sound) between the two connected leaves.
Using the incorrect wall ties could compromise sound insulation performance and lead to developments not achieving compliance with Part E.
Care needs to be taken on site because at first glance, some Type B ties look similar to Type A as illustrated. Others are quite different! The situation is not helped by labelling on the packaging of some wall ties being somewhat ambiguous – so please make sure your wall ties are Type A.
Wider Cavities and Sound Insulation Performance
With the Building Regulations requiring higher levels of thermal performance and thicker thermal insulation, we are seeing wider cavities. Whilst this generally relates to external walls, it is often the case that the wider cavity is carried through to separating walls between adjacent dwellings. This is particularly the case when there are steps and/or staggers between the adjacent buildings.
In principle, a wider cavity should also benefit the sound insulation performance of a separating wall. However, there is need for caution, since a wider cavity is likely to have implications for the wall ties that should be used.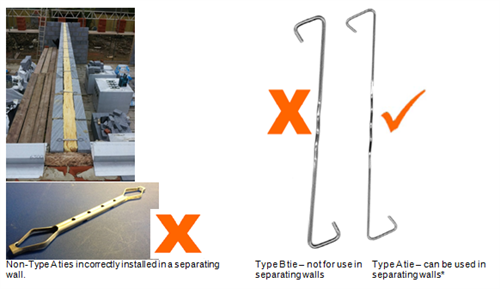 Type A Wall Ties for Separating Walls
Unless otherwise* stated in the Robust Details Handbook, the wall ties to be used in the Robust Details cavity masonry separating walls should have Type A status. This status relates to measured dynamic stiffness, which affects how well the ties transmit vibration. The method for determining the measured dynamic stiffness is outlined in Approved Document E (paragraphs 2.18 to 2.24). The criteria include consideration of both the cavity width and the wall tie spacing.
Typically ties are evaluated for Type A status on the basis of installation at a standard density of 2.5 ties per square metre (that equates to spacing at 900mm horizontal x 450mm vertical centres). Ties should not be installed at a greater concentration than is defined by the Type A status.
To avoid the use of incorrect wall ties, obtain confirmation from the wall tie manufacturer that they have a test report that demonstrates compliance with the criteria for Type A, which should relate to the intended cavity width of the separating wall. Also, ensure that the installed spacing of the wall ties is as stipulated by the manufacturer for the intended purpose.
Remember, if you need any technical assistance, visit the www.robustdetails.com website to download the handbook or read up on technical documents. You can also contact the robustdetails® technical team for instant answers to your technical questions on 03300 882140 or email: technical@robustdetails.com
*Unless specification indicates a named wall tie is specifically required or, otherwise, no ties are permitted.
Return to the Top Tips page