Good Sound Footing
The 'ground floor and foundation detail' is a flanking construction in just the same way as the external wall is – so it too needs to guard against sound getting around the separating wall.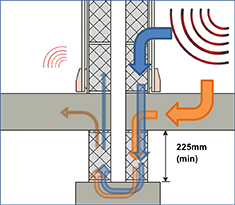 Masonry
The standard detail shown for the cavity masonry walls is fully tested and proven to give this protection through a combination of: isolation; changes in materials; and transmission path dimensions.

Bypassing or short-circuiting this, by having the floor continuous across the cavity; or being tempted to have trench blocks or [lean-mix] cavity fill within 225mm of the floor structure, could result in increased flanking sound, and must be avoided.

This applies regardless of the floor type, as indicated below. Note that trench blocks may be used below the 225mm maintained cavity only when the ground floor structure is either suspended insitu concrete, precast plank or beam and block, which is built into the wall leaves.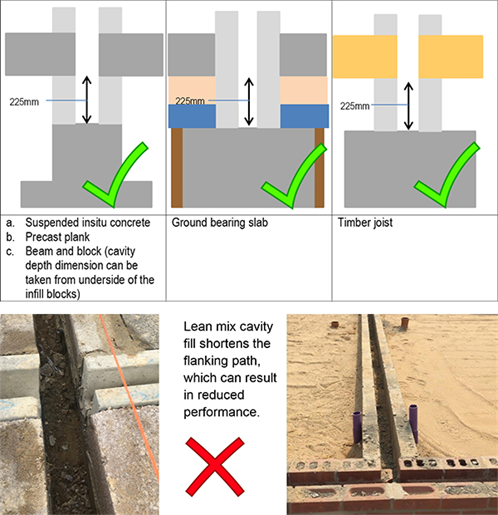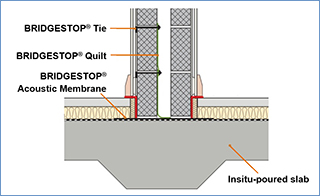 But what if you have a raft foundation?
The solid wall, E-WM-9 is designed to work specifically off a continuous insitu concrete raft foundation, but this can only be used in houses. So for flats with a separating floor condition or otherwise in houses, the use of a cavity wall with the Icopal-MONARFLOOR® BRIDGESTOP® system is specified in Appendix A2 to the Handbook.

The Acoustic Membrane isolates one wall leaf from the other; and the insitu concrete raft foundation has sufficient mass to impede the movement of sound under the wall. But to ensure this, the raft must be min. 365kg/m2 and 150mm thick; or be the SIG Insulslab system.

However, not all cavity masonry walls have been approved for use with this system, so you should refer to Table 6a in the Introduction to the Handbook to check compatibility. 

Light Frame Walls
With the large variation in the material properties, timber and light-steel frame walls can be built directly off a min. 365kg/m2 insitu concrete raft foundation – but they must have a floating floor treatment in place to shield the base of the wall.

The diagram is illustrated with a groove to show that a drainage channel can be included if needed to meet other regulations and standards. This is not for acoustic performance.

These wall types can also utilise strip foundations with a suspended floor, which follows similar isolation principles to the masonry walls discussed above.
If you have any techncial enquiries please do not hesitate to contact our technical team on 03300 882140 or email: technical@robustdetails.com
Return to the Top Tips page