Joining Masonry Leaves
In relation to addressing sound insulation it is possibly worth bearing in mind that the aim of a separating element is to act as a barrier to the passage of sound. In order to be effective the 'barrier' therefore needs to be provided to the full extent required. It is for this reason that the junction of a separating wall with a flanking wall requires that the separating wall leaves extend through the inner leaf of the associated flanking wall. This is as shown in the diagram below.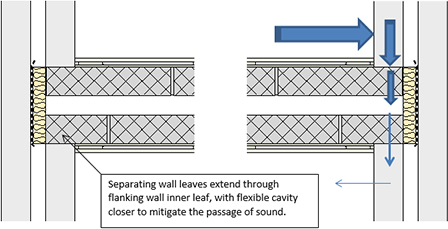 One of the issues identified through the performance monitoring site visits undertaken by Robust Details Limited is the matter of the incorrect orientation of the blockwork leaves at the separating wall/flanking wall junction.

This may have been done, albeit incorrectly, with the best of intentions – the thought being that the thermal insulation performance might benefit. However, if the separating wall leaves do not continue through the inner leaf (either for the full height or through the use, when appropriate, of a toothed junction – see below) then there is a risk that the sound insulation performance might be affected.

Not only is there the potential issue of the lighter weight blockwork typically used in the inner leaf of flanking walls (which, particularly in terms of density, might not be of a specification suitable for addressing sound insulation) but, also, the fact that there will be full height joints that are back-to-back at the end of the separating wall.

It is also important to ensure that the cavity of the flanking wall is closed off with a flexible (mineral wool based) cavity stop, unless the cavity of the flanking wall is fully filled with built in mineral wool insulation. The cavity stop extends the 'barrier' to the external leaf of the flanking wall.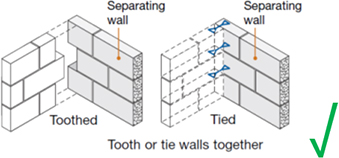 In terms of the required sound insulation performance, regardless of whether different types of blockwork (provided the blockwork in each case is of the appropriate specification) are used either a 'tied' or a 'toothed' joint can be used. Although, if different block types are used we would normally expect a 'tied' junction, which we understand would typically be expected to satisfy other standards.

The same principles apply in cases where the junction is staggered. In terms of sound insulation performance it is desirable for there to be a slight 'overlap' (nominally 300mm) of the separating wall leaf where a stagger occurs. However, following feedback from industry regarding concerns over thermal performance and receipt of further test evidence we are able to confirm that the required acoustic performance of a Robust Detail cavity masonry separating wall would not be significantly affected if stagger junctions are constructed such that the leaves of the separating wall are at least the same length, as depicted below.


If you have any techncial enquiries please do not hesitate to contact our technical team on 03300 882140 or email: technical@robustdetails.com
Return to the Top Tips page