Gas-trick banned
There are plenty of tricks used by builders when it comes to using membranes over structural ground floors – some can give acoustic problems that won't be easy to stomach!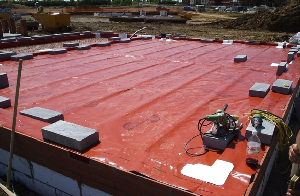 Depending on the site, and to a certain extent your luck, you may need to protect against ground gases getting into the dwellings – and this could necessitate having barrier membranes and subfloor ventilation across the separating wall cavities.
If the simple guidance in the Robust Details Handbook is followed, gas barriers need not be barriers to providing good acoustic performance.
Don't get full up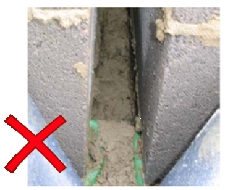 The robustdetails® cavity separating walls state that you should "Make sure there is no connection between the two leaves except for wall ties and foundation (and insulation)". As the gas membranes are flexible, they won't in themselves provide an acoustic connection, but mortar droppings and other accumulations will.
Ideally debris won't get into the cavity to start with, but in reality it inevitably will – so there are a number of ways to deal with this.
The membrane can be dressed down into the cavity; or be positioned at foundation level to allow any debris to collect in the 225mm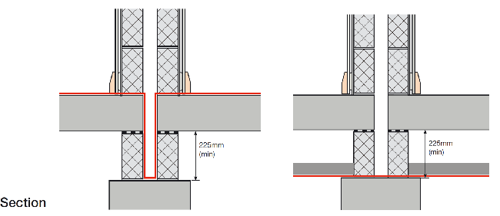 Alternatively, the membrane can be laid flat on top of the structural floor such that it is continuous across the cavity – but this is where the droppings can start to give an acoustic connection, so a bit more care is required.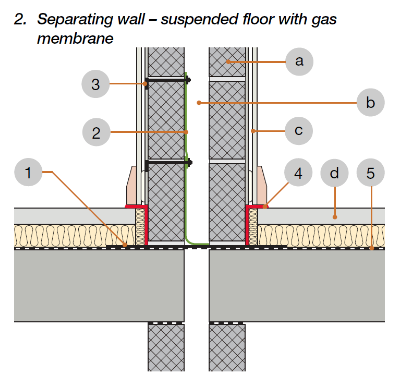 In these situations, you could leave blocks out at the base of the wall to allow the membrane to be cleared once the wall is built; or you could possibly consider incorporating the Icopal-MONARFLOOR® BRIDGESTOP® System as shown in Appendix A2. This system is perhaps the more 'robust' option, as even where mortar and other solid matter does accumulate, the quilt in the cavity will stop it bridging from one leaf to the other… the clue is in the name, really.
Gas escaping from the bottom
Sub-floor ventilation would normally be a requirement in this situation – and ideally, this will vent front-to-back of the property. However in some situations, it might be necessary to provide cross-flow ventilation through the line of the separating wall. The robustdetails® walls do accept this, provided the top face of the duct is at least 300mm below finished floor level; and the number of penetrations is kept to a minimum – Appendix A1 contains all the information and guidance for you to read and of course digest! 
If you have any techncial enquiries please do not hesitate to contact our technical team on 03300 882140 or email: technical@robustdetails.com
Return to the Top Tips page