Fit a Gutter, or two...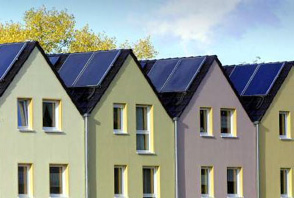 Positioning valley gutters in line with, and directly on top of, separating walls is not specifically covered within the Robust Details – however, the requirements that need to be followed are included in the Handbook.
So provided these simple guidance points are followed, the separating wall would still in principle comply with the Robust Details scheme requirements.
Note: This article discusses the issues relating to cavity masonry walls – please Contact Us if you are using other forms of construction.
Materials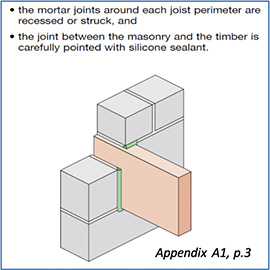 Fundamentally, a masonry separating wall must be constructed from masonry blocks of the required type and density – so if a timber wall plate, used to take the trusses, came within the height of the room, this would not be acceptable. Instead, you could consider taking the block leafs up and either fully building the ends of the trusses into the wall leafs following the same guidance that applies to floor joists on page 3 of Appendix A1; or supporting them off hangers. Any sloping ceilings must be double boarded as specified in the "Roof junction – pitched roof with room-in-roof" section of the Robust Detail.
Isolation
The trusses that are structurally connected to the wall leafs should not extend into the cavity, and must never be continuous over the wall, as this gives a potential flanking path. For the same reason, upstands or parapets (including on the external walls) that bridge the separating wall cavity would not be permitted.

Noggins can span between the trusses to support the floor of the valley, provided they are clear of the top of the wall, and the gaps between and under the noggins are fully stopped with a flexible material such as mineral wool – again, as shown in the relevant detail, for example the "Roof junction – pitched roof with room-in-roof" section of the Robust Detail.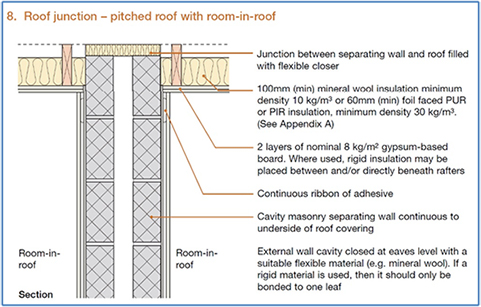 If you have any techncial enquiries please do not hesitate to contact our technical team on 03300 882140 or email: technical@robustdetails.com
Return to the Top Tips page