Access the design details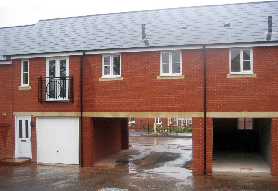 Occasionally, flats will be constructed such that part of the floor area crosses over a drive-through or pedestrian access.


In these cases, the section of floor, and the walls on either side forming the 'tunnel', are external elements. This means that Approved Document E (Part E) does not apply to these areas, so neither does the robustdetails® scheme. However, if any of these turn into separating elements, then at this point, you need to start considering the design in terms of meeting the acoustic Requirement E1.
In the photo above, the wall on the right of the drive-through continues up to become a separating wall (in line with the rain water pipe).
Wall Detail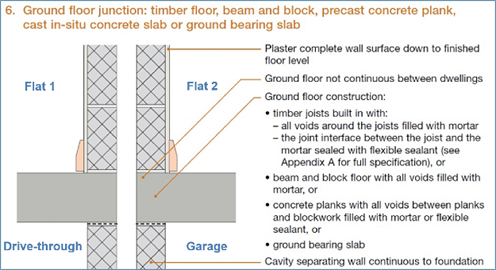 In order for this to meet the robustdetails® requirements, the principles of the ground floor junction can be followed.
It may also be worth referencing the TopTip on 'Flats over Garages', to check the required detailing in that area.
Steels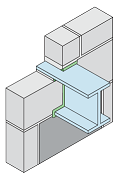 If steel beams are required to support the structure across the drive-through, the solid beam ends can be built into the walls. If these are robustdetails® separating walls, all voids around the beam ends need to be filled with mortar or flexible sealant. See Appendix A1 to the Handbook for further information.

It's not possible to incorporate lengths of steel beams or columns within the thickness of robustdetails® separating walls.
Registration
With all the above in place, the identified flats could be registered for the separating wall – provided of course, they also meet all the relevant robustdetails® specifications. If the garages are under different ownership, then refer to the TopTip on 'Flats over Garages' to check whether the floor could be registered.
If you have any techncial enquiries please do not hesitate to contact our technical team on 03300 882140 or email: technical@robustdetails.com
Return to the Top Tips page